THIS SHOW HAS NOW TAKEN PLACE.

*Mark Ainslie * Cassie Ainslie * Jonathan Boyd
Eva Belton * Lucas Cochran * Oliver Cronin * Clare Bonner
Niamh Currie * Robert Fyfe * Paul Gailey * Campbell J Kerr
Eve Kerrigan *Gary King * Amy McDonald * John-Paul Liddle
Varrie McElwaine * Joanne McMinn * Jennifer Murtagh
Aileen Johnstone * Sam Poole * Holly Steel * Cara Thewlis
* Jennie Wilkie *
A SPECIAL GUEST STAR WILL APPEAR AT THE GALA PERFORMANCE ONLY.
ADULT PERFORMERS, SINGERS AND DANCERS
Ronan Aguilera * Samantha Bestow * Clare Bonner
Maria Cairns * Stephanie Colquhoun * Olivia Curry
Mia Cochrane * Lucas Cochran * Jodi Gemmell
Calum Galbraith * Orla Gilbride * Sarah Jones * Eve Kerrigan
Niamh Keane * Jennifer Lesco * Emily Lynch * Lindsay Maguire
Lauren McPhee * Luke McAllen * Zac McGuire
Chloe Minto * Alicia McPherson * Claire O'Hagan * Piper Stark
* Mollie Ward * Sophie Yacoubian * Andrew Watt
Andrew Watt
YOUTH AND CHILDRENS COMPANY
Orlagh Black * Lucas Cochran * Sophie Cochran * Ava Cramb
Sam Donnelly * Alyssa Fernand * Kaye Gilmour
Orla Gilbride * Niamh Harkins * Molly Jess * Paris Milne
Cayden Murphy * Melissa Reid * Kirsty Wilson
Jodi Gemmell * Antonia Jones * Sophie Whitelock
AND
Eva Belton * Laurie Dorrian * Therese Dorrian
Emily Lawless * Grace MacFarlan * Louise MacLean
Maicie McBride * Mia McDonald * Ava McElwaine
Varrie McElwaine * Kelsey McGeever * Beth McPhee
Grace McPhee * Jemma Sutherland
*****
- - - - - - - - - - -
T H E A P O L L O P L A Y E RS
GOLDEN ANNIVERSARY YEAR
1966 - 2016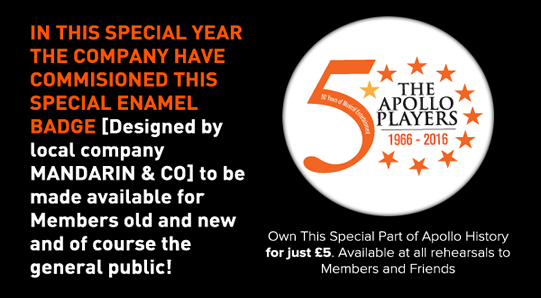 **********************************************************
THE
APOLLO
PLAYERS
************************************************************
T H E G R A P E V I N E
Many Former Members Have and Are Working Professionally
In the Theatre World
Listed Below Are The Most Recent Updates We Have
DISNEY CRUISE LINER " MAGIC"
Vivienne Carlyle
TANGLED
Mother Gothel
***
Vivienne Carlyle
TWICE C H A R M E D
An Original Twist On The Cinderella Story
Lady Tremaine
Derek Riddell
THE MISSING
BBC ONE
Kirsty McLaren
Now Appearing in
FIDDLER ON THE ROOF
Playhouse Theatre West End London
Jamie Quinn
Now Appearing in
BBC ONE'S
T W O D O O R S D O W N
JOE McFadden
Now Appearing In
BBC ONE'S
STRICTLY COME DANCING
CAMERON JACK
Now Appearing In
WHAT HAPPENED TO MONDAY
[Netflix]
CALIBRE
[Netflix]
"LEVEL UP"
[Sky]
SAM [DOYLE] MURPHY
Now Appearing In
42nd STREET
THEATRE ROYAL - DRURY LANE LONDON
*****************************************************************
JOHN DEMPSEY
Now Appearing In
The Number One Touring Version Of
K I N K Y B O O T S
***********************************************
CHRIS REILLY
Is Making His First Big Screen Appearance In The New DVD Release Of
ALLIES
Christopher Is Currently Appearing In The New Series Of
CALL THE MIDWIFE
PREVIOUS TELEVISION WORK INCLUDES
Games Of Thrones. Silent Witness , EastEnders
RILLINGTON PLACE
Arthur
NEW BBC DRAMA
29/11/2016
....................................................................................
FORMER MEMBERS
Are Currently Appearing Or Have Appeared In
The Following Professional Productions
In The UK and Worldwide
CATS
FAME
SHREK
TOMMY
OLIVER!
TITANIC
DISNEY
CABARET
CAMELOT
HAPPY DAYS
MISS SAIGON
FUNNY GIRL
EURO-DISNEY
KINKY BOOTS
OKLAHOMA!
HAIRSPRAY
MY FAIR LADY
BILLY ELLIOT
42ND STREET
TONY AWARDS
STREET SCENE
SOUTH PACIFIC
THE MUSIC MAN
THE PRODUCERS
LES MISERABLES
LOVE NEVER DIES
BLOOD BROTHERS
SCOTTISH OPERA
THE LIGHT SEEKER
WE WILL ROCK YOU
STARLIGHT EXPRESS
BEAUTY AND THE BEAST
ROCKY HORROR SHOW
THE DROWSEY CHAPERONE
THE PHANTOM OF THE OPERA
OUR LADIES OF PERPETUAL SUCCOUR
CHARLIE AND THE CHOCOLATE FACTORY
JOSEPH AND THE AMAZING TECHNICOLOUR DREAMCOAT
T E L E V I S I O N / FILM
FILTH
SPOOKS
VINCENT
EVEREST
DOCTORS
ATLANTIS
SHETLAND
NO ANGELS
DCI BANKS
UGLY BETTY
MOVING ON
RIVER CITY
STILL GAME
EASTENDERS
GUNPOWDER
THE MISSING
HAPPY VALLEY
DOCTOR WHO
THE STEAMIE
WILD COUNTRY
RIPPER STREET
BLUE STONE 43
STRATHBLAIR
CLOCKING OFF
WATERLOO ROAD
TWO DOORS DOWN
BUTTERFINGERS
FIVE DAUGHTERS
SILENT WITNESS
DALZIEL & PASCO
GAME OF THRONES
CALL THE MIDWIFE
DEATH IN PARADISE
THE RAILWAYMAN
THE BLACK WATCH
RILLINGTON PLACE
TWO DOORS DOWN
THE VIRGIN QUEEN
MIDSOMER MURDERS
WHERE THE HEART IS
DALZIEL & PASCO
WORLD WAR "Z"
TAGGART
SUSPECTS
CASUALTY
INSPECTOR GEORGE GENTLY
MUCH ADO ABOUT NOTHING
WHAT HAPPENED ON MONDAY
STRICTLY COME DANCING
THE HOBBIT - THE BATTLE OF THE FIVE ARMES
TERMINATOR - THE SARAH CONNER CHRONICLES
OPENING CERMONY: THE COMMONWEALTH GAMES 2014
SCOTLAND REACHING OUT TO AFRICA [ SECC ] 2004
Remember to check our website and to follow us on Facebook to keep updated with how our new show is progressing with up to date information.
We at THE APOLLO PLAYERS strive to create an unforgettable experience for our PATRONS and PERFORMERS alike.
Connect with Apollo...

Facebook

Twitter

Flickr
http://www.apolloplayers.com/images/updatefiles/Latest_Show-5.jpghttp://www.apolloplayers.com/images/updatefiles/Latest_Show-5.jpghttp://www.apolloplayers.com/images/updatefiles/Latest_Show-5.jpg