This Production Has Now Taken Place
"A SPLASH HIT"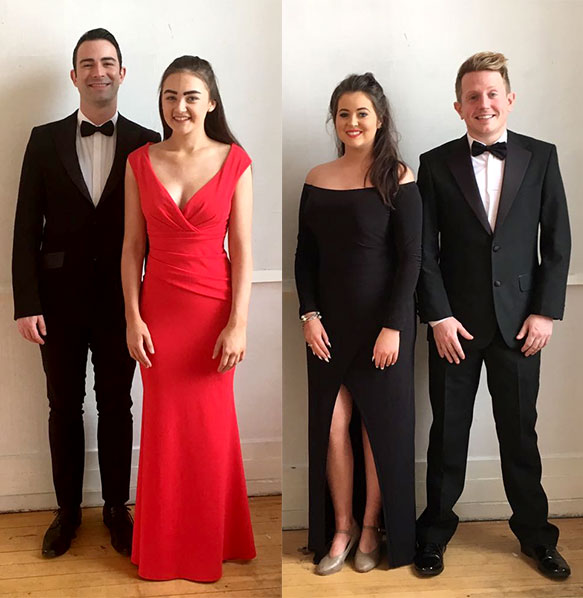 Hugh Moore Varrie McIlwaine Joanne McMinn Garry King
DON LOCKWOOD KATHY SELDON LINA LAMONT COSMO BROWN
THE
APOLLO
PLAYERS
Founded in 1966
LIVE ON STAGE
Tap Your Toes And Sing Along In This Splashy Adaption Of The Celebrated And Beloved Film.
WHAT A GLORIOUS FEELING!!

A Tribute To The Late Debbie Reynolds
THEATRE ROYAL
Hope Street
Glasgow
The Greatest Movie Musical of all time is faithfully and lovingly adapted by Broadway legends Betty Comden and Adolph Green from the original award-winning screenplay in Singin' in the Rain. Each unforgettable scene, song, and dance is accounted for, including the show stopping title number, complete with onstage rainstorm
Hilarious situations, snappy dialogue and a hit parade of Hollywood Standards including: Good Morning, Moses Supposes, You Stepped Out of a Dream, All I Do Is Think Of You, Make 'Em Laugh, Beautiful Girl, Broadway Melody, Fit As a Fiddle and many more. Singin' in the Rain is the perfect entertainment for all ages and any fan of the Golden Age Of Hollywood.
ONE WEEK ONLY
30th October -4th November 2017
Singin' In The Rain has all the makings of a Tinseltown tabloid headline - the starlet, the leading man and a love affair that could change lives and make or break careers! In silent movies, Don Lockwood and Lina Lamont are a hot item, but behind the scenes things aren't always as they appear on the big screen! Meanwhile, Lina's squeaky voice might be the end of her career in "talking pictures" without the help of a talented young actress to do the talking and singing for her.
ONE WEEK ONLY
3Oth October - 4th November 2017
SINGIN' IN THE RAIN
Screenplay by
BETTY COMDEN & ADOLPH GREEN
Songs by
ARTHUR FREED & NACIO HERB BROWN
SINGIN' IN THE RAIN
Based on the classic METRO-GOLDWYN-MAYER film by special arrangement with WARNER BROS Theatre Ventures, Inc
and
Music Theatre International Europe / Josef Weinberger London
TICKETS NOW ON SALE
THEATRE ROYAL BOX OFFICE
0844 871 7648
Ticket Prices include £1 25 towards the KING'S THEATRE restoration fund
TICKET PRICES AND TIMES OF PERFORMANCES are available by visiting BOX OFFICE TICKETS
TICKETS ARE ALSO ON SALE FROM THE APOLLO PLAYERS TICKET ADMINISTRATOR
JEANETTE CONOLLY
07393-447-114
- - - - - - - - - - -
T H E A P O L L O P L A Y E RS
GOLDEN ANNIVERSARY YEAR
1966 - 2016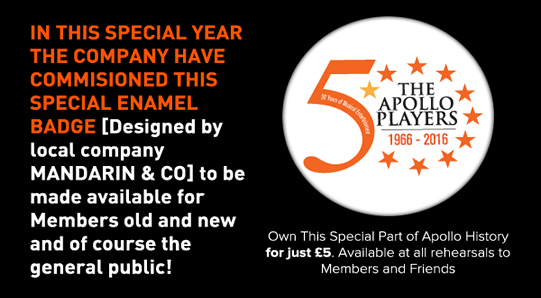 **********************************************************
THE
APOLLO
PLAYERS
************************************************************
T H E G R A P E V I N E
Many Former Members Have and Are Working Professionally
In the Theatre World
Listed Below Are The Most Recent Updates We Have
JOE McFadden
Now Appearing In
BBC ONE'S
STRICTLY COME DANCING
CAMERON JACK
Now Appearing In
WHAT HAPPENED TO MONDAY
[Netflix]
"LEVEL UP"
[Sky]
SAM [DOYLE] MURPHY
Now Appearing In
42nd STREET
THEATRE ROYAL - DRURY LANE LONDON
*****************************************************************
JOHN DEMPSEY
Now Appearing In
The Number One Touring Version Of
K I N K Y B O O T S
***********************************************
CHRIS REILLY
Is Making His First Big Screen Appearance In The New DVD Release Of
ALLIES
Christopher Is Currently Appearing In The New Series Of
CALL THE MIDWIFE
PREVIOUS TELEVISION WORK INCLUDES
Games Of Thrones. Silent Witness , EastEnders
RILLINGTON PLACE
Arthur
NEW BBC DRAMA
29/11/2016
....................................................................................
FORMER MEMBERS
Are Currently Appearing Or Have Appeared In
The Following Professional Productions
In The UK and Worldwide
CATS
FAME
SHREK
TOMMY
OLIVER!
TITANIC
DISNEY
CABARET
CAMELOT
HAPPY DAYS
MISS SAIGON
FUNNY GIRL
EURO-DISNEY
KINKY BOOTS
OKLAHOMA!
HAIRSPRAY
MY FAIR LADY
BILLY ELLIOT
42ND STREET
TONY AWARDS
STREET SCENE
SOUTH PACIFIC
THE MUSIC MAN
THE PRODUCERS
LES MISERABLES
LOVE NEVER DIES
BLOOD BROTHERS
SCOTTISH OPERA
THE LIGHT SEEKER
WE WILL ROCK YOU
STARLIGHT EXPRESS
BEAUTY AND THE BEAST
ROCKY HORROR SHOW
THE DROWSEY CHAPERONE
THE PHANTOM OF THE OPERA
OUR LADIES OF PERPETUAL SUCCOUR
CHARLIE AND THE CHOCOLATE FACTORY
JOSEPH AND THE AMAZING TECHNICOLOUR DREAMCOAT
T E L E V I S I O N / FILM
FILTH
SPOOKS
VINCENT
EVEREST
DOCTORS
ATLANTIS
SHETLAND
NO ANGELS
DCI BANKS
UGLY BETTY
MOVING ON
RIVER CITY
STILL GAME
EASTENDERS
GUNPOWDER
THE MISSING
HAPPY VALLEY
DOCTOR WHO
THE STEAMIE
WILD COUNTRY
RIPPER STREET
BLUE STONE 43
STRATHBLAIR
CLOCKING OFF
WATERLOO ROAD
BUTTERFINGERS
FIVE DAUGHTERS
SILENT WITNESS
DALZIEL & PASCO
GAME OF THRONES
CALL THE MIDWIFE
DEATH IN PARADICE
THE RAILWAYMAN
THE BLACK WATCH
RILLINGTON PLACE
TWO DOORS DOWN
THE VIRGIN QUEEN
MIDSOMER MURDERS
WHERE THE HEART IS
DALZIEL & PASCO
WORLD WAR "Z"
TAGGART
SUSPECTS
CASUALTY
INSPECTOR GEORGE GENTLY
MUCH ADO ABOUT NOTHING
WHAT HAPPENED ON MONDAY
STRICTLY COME DANCING
THE HOBBIT - THE BATTLE OF THE FIVE ARMES
TERMINATOR - THE SARAH CONNER CHRONICLES
OPENING CERMONY: THE COMMONWEALTH GAMES 2014
SCOTLAND REACHING OUT TO AFRICA [ SECC ] 2004
Remember to check our website and to follow us on Facebook to keep updated with how our new show is progressing with up to date information.
We at THE APOLLO PLAYERS strive to create an unforgettable experience for our PATRONS and PERFORMERS alike.
Connect with Apollo...

Facebook

Twitter

Flickr
http://www.apolloplayers.com/images/updatefiles/Latest_Show-5.jpghttp://www.apolloplayers.com/images/updatefiles/Latest_Show-5.jpghttp://www.apolloplayers.com/images/updatefiles/Latest_Show-5.jpg